Amazon Secure your MasterCard Offer : ₹50 cashback
Secure Card Offer, Amazon Cashback, Amazon MasterCard Offer, Secure your card, Card Offer — Hello guys how are you all hope you are enjoying All The Deals And offers posted in our Telegram channel do check out the recent offers that are posted in our Telegram channel here in this post we are going to discuss the new offer curated by Amazon for you very were getting Rs.50 cashback for just securing your card. Few days ago we have posted a Amazon bug where you just have to send ₹2 and instead of that you are getting ₹50 cashback. The official offer of that bug was that you have to secure your card online on Amazon. So that bug was already over.
Also Read : Amazon Pay Later : Get ₹150 Cashback
Before the offer was only for Prime users. But at this moment this offer is opened for all users. So even if you missed it last time you can grab it this time if you have a master card of yours.
*** Account Specific Offer ***
How to get ₹50 cashback by securing your card :
Firstly open your Amazon account.
On the dashboard itself you will get a panel for securing your card.

If you do not see the banner you can land on the page by clicking here — CLICK HERE
Click on that banner.
Click on Save My Card.
Now proceed to the offer for entering your card details
Now enter the details of your MasterCard. or choose the card if previously entered

Proceed to pay amount of ₹2.
Complete the transaction.
After successful transaction and you will get ₹50 cashback on your Amazon wallet.
You can use the amount of Amazon wallet in any of your future transactions of shopping or bill payments.
Enjoy !!!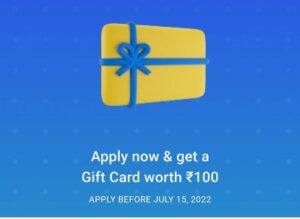 Offer period – 24th June 00:00 hrs to 27th June 2022 23:59 hrs
---
Frequently Asked Questions
Q. – What is the Master Card Offer?
Get Flat Rs 50/- cashback if you save your mastercard on Amazon with a swipe amount of

INR

 2/- (refundable)

The offer is valid for only once per account.

Cashback will be credited as A pay balance within 24hours of transaction.

Swipe amount of

INR

 2/- is also refundable and will be credited in the original payment method.
Q. – How can I avail this offer?
There are no other special steps to avail this offer. Just go click on the link (only the designated link), save your card and get the cashback
Q. What is the maximum cashback that I can avail?
Get upto INR 50/- Cashback as your A pay balance, when you save your Master card and swipe your card for INR 2/- (refundable).
Q. My payment failed while placing the order, will I be eligible for the cashback?
If your payment failed while swiping INR 2/-, Amazon.in gives you an option to revise your payment. If you revise your payment within the offer duration, you will be eligible for the cashback.
Q. When will I receive the Cashback?
Within 24hours of the order being placed.
---
Note that,
if you have already availed rupees 50 cashback during the time that we posted the Amazon Bug this offer is not for you
This offer is applicable for all users
Non Prime users can also grab the offer
You can get the cashback for only one time, that means you can secure only one card.
---
You May Also Like :