ParkPlus Quiz Answers Today
Park Plus app has been offering its users free petrol. Regularly it is organizing Quizzes which we have answered all the answers correctly. Check out the answers below and participate accordingly.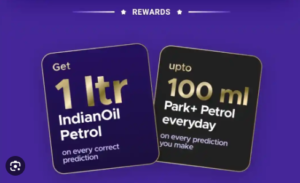 Quiz Answers Today 
Q1. Where did sports car originate in ?

Answer — Europe [B]
Q2. How often do cars typically need servicing ?

Answer — Once in a year [C]
Q3. Which is the fastest electric car available in India ?

Answer — Porche Taycan Turbo S [B]
Q4. Guess the Car from image ?

Answer — Jeep Wrangler [C]
Q5. Guess the Car from the image ?

Answer — Kia Carens [B]
---
How To Play Park+ Daily Quiz:
Open the Park+ App or website.


Park Plus App

Tap on the "Discover" tab.
Scroll down and tap on "Streak Quiz".
Answer the 5 questions correctly.
If you answered all 5 questions correctly, you will win free petrol Upto 1 Litre.
The Park+ Daily Quiz is a great way to test your knowledge of cars and driving and to win some free petrol. The quiz is updated every day, so there are always new questions to answer.
CheQ Park+ Offer : Get Free Rs.100 Petrol on Signup
Here are some tips for playing Park+ Daily Quiz:
Read the questions carefully. The questions are not always straightforward, so it's important to read them carefully and understand what they are asking.
Use your knowledge of cars and driving. If you know a lot about cars and driving, you will be more likely to answer the questions correctly.
Use the hints. If you get stuck on a question, you can use the hints to get help.
How to Redeem Free Petrol from Park+ App:
Play Daily Quiz And Win Upto 1 Liter Petrol In A Week
To Redeem Your Prize Of Petrol, Please Open The Park+ App
Go To Petrol Section
Scroll Down In Petrol Section & Click On 'Redeem Park+ Petrol' Or 'Buy Petrol'
Enter Your Name, Email ID, DOB, and Select Vehicle by Car/bike & Pincode
Then Click on 'Enroll Now'
Park+ App Will Generate Your Indian Oil Voucher
Click On 'Claim'
Go to Indian Oil Petrol Pump & Get Free 1L Petrol Free With Oil Voucher
Done…