Sale!
Crompton Energion HS 1200 mm 3 Blade Ceiling Fan with Remote
How to Buy the item :
1. Click on Link to Buy — BUY NOW.
2. Login / SignUp for your account.
3. Proceed to Cart
4. Enter your Shipping Address correctly, enter correct PIN Code.
5. Apply the Promotions / Coupons / Bank Offer.
6. Make the payment with any available methods.
7. Enjoy your shopping.
8. Your product will be delivered to your home within 7 working days.
Share this :
Description
Highlights :
Blade Sweep: 1200 mm
BEE Energy Rating: 2022 Launch Year
Product Description 
You can experience a cool and comfortable environment in your room with the Crompton Energion HS Ceiling Fan. Courtesy of its wide sweep of 1200 mm, this ceiling fan can deliver air at a rate of up to 220 cubic metres per minute (7770). As it runs at high speeds of up to 370 RPM, this ceiling fan can produce a cool breeze in a jiffy. And, powered by a robust ActivBLDC motor, this ceiling fan consumes merely up to 35 W of power, so you can save energy.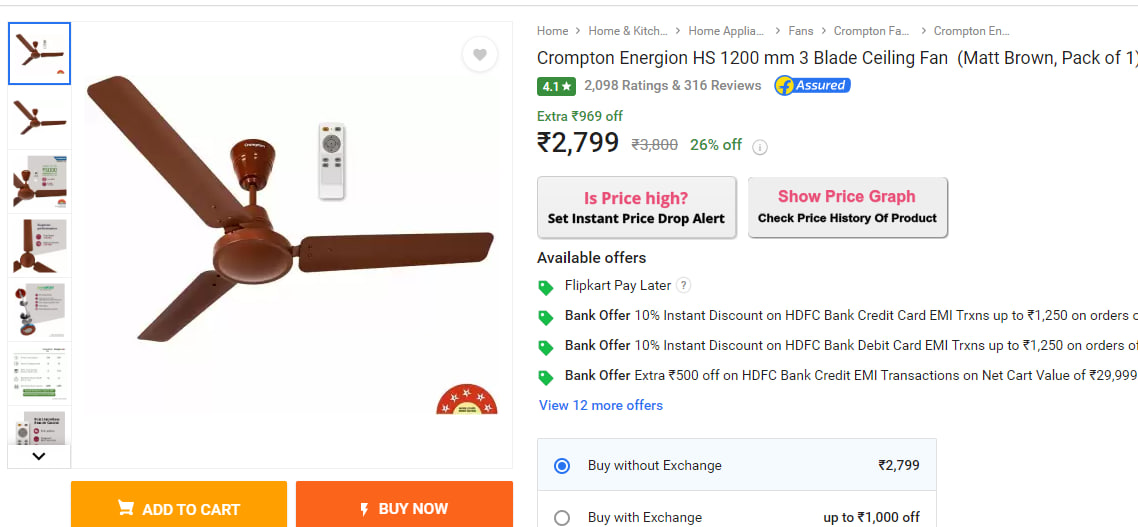 Product prices and availability are accurate as of the time it is posted here as indicated and are subject to change. Visit the related Website to See Latest Price.