Sale!
Mylab CoviSelf COVID-19 Rapid COVID-19 Rapid Antigen Kit (Home-based/self)
How to Buy the item on Flipkart :
1. Click on Link to Buy — BUY NOW.
2. Login / SignUp for your account.
3. Proceed to Cart
4. Enter your Shipping Address correctly, enter correct PIN Code.
5. Apply the Promotions / Coupons / Bank Offer.
6. Make the payment with any available methods.
7. Enjoy your shopping.
8. Your product will be delivered to your home within 7 working days.
Share this :
Description
Highlights
Mylab
Safe Swab, Test Card, Prefill Extraction Tube, Disposal Bag, User Manual
COVID-19 Rapid Antigen Kit (Home-based/self)
CoviSelf is India's first ICMR approved self-test kit for COVID-19. CoviSelf allows you to test for COVID-19 antigen yourself within 15 minutes. The test is authorized for non-prescription home use with self-collected nasal samples. The test can be used by 18 years and older individuals themselves or by an adult for individuals between 2-18 years old. The tests must be performed with CoviSelf App to register and report results.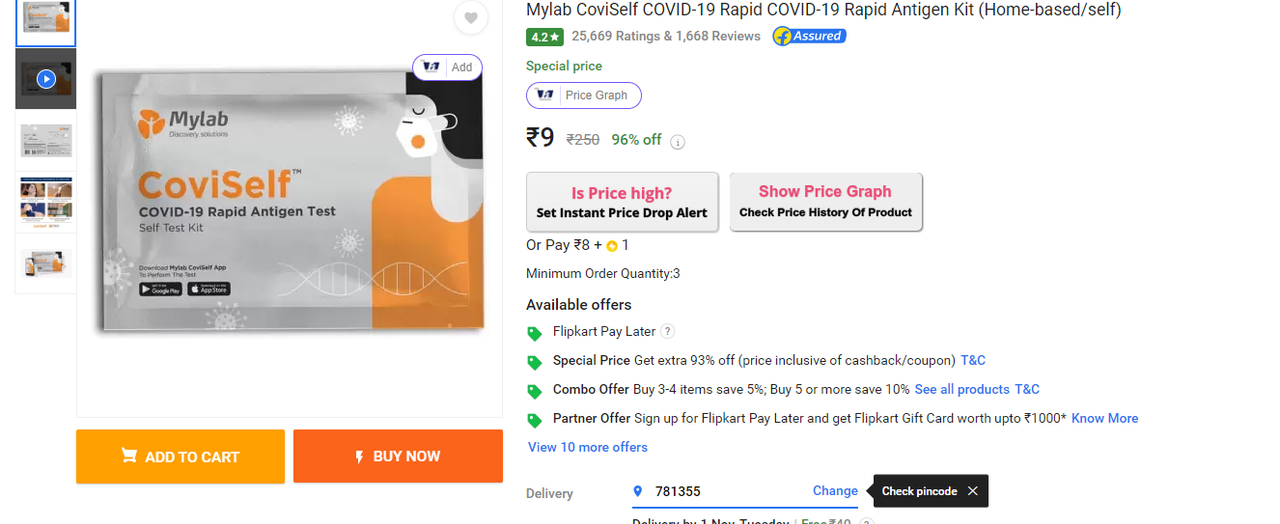 How to Use :
https://www.youtube.com/watch?v=6wVppYNJLN4