Sale!
Zebronics ZEB-FIT8220CH Smart Watch with 4.3cm Large Square Touch Display
How to Buy the item :
1. Click on Link to Buy — BUY NOW.
2. Login / SignUp for your account.
3. Proceed to Cart
4. Enter your Shipping Address correctly, enter correct PIN Code.
5. Apply the Promotions / Coupons / Bank Offer.
6. Make the payment with any available methods.
7. Enjoy your shopping.
8. Your product will be delivered to your home within 7 working days.
Share this :
Description
About this item
A combo of Smart watch and Fitness band ZEB-FIT8220CH with a large – square 4.3cm full touch color display. Compatible with both Android and iOS smartphones.

– BT v5.1 support with the ZEB – FIT 20 SERIES companion app, for the ease of customizing watch faces from gallery and cloud collection.

– 230mAh built-in rechargeable battery for a week long usage time.

– IP68 waterproof body with a sleek and elegant design, suits your attire in all occasions. Stay safe from most accidental water exposures, with the IP68 resistance.

– Receiver notifications from various social media apps, SMS and call alerts with the caller ID, while connected to the ZEB-FIT 20 SERIES app in your smartphone.

– Never miss out on tracking your health with the user friendly steps / distance / calorie tracker. Adding the importance of continuous heart rate monitoring, real-time SpO2 and BP measurement, to your fitness plan with ZEB-FIT8220CH smart watch.

– Sleep monitoring with this smartwatch is what you can rely upon, as it is made easy to monitor and track, along with the companion app data sync.

– Simple pairing method, easy usage and customization, skin friendly silicone straps and much more everyday usable interesting features like water reminder, walk reminder, alarms, stopwatch, physiological reminder, call reject, weather forecast and much more with ZEB-FIT8220CH smart watch.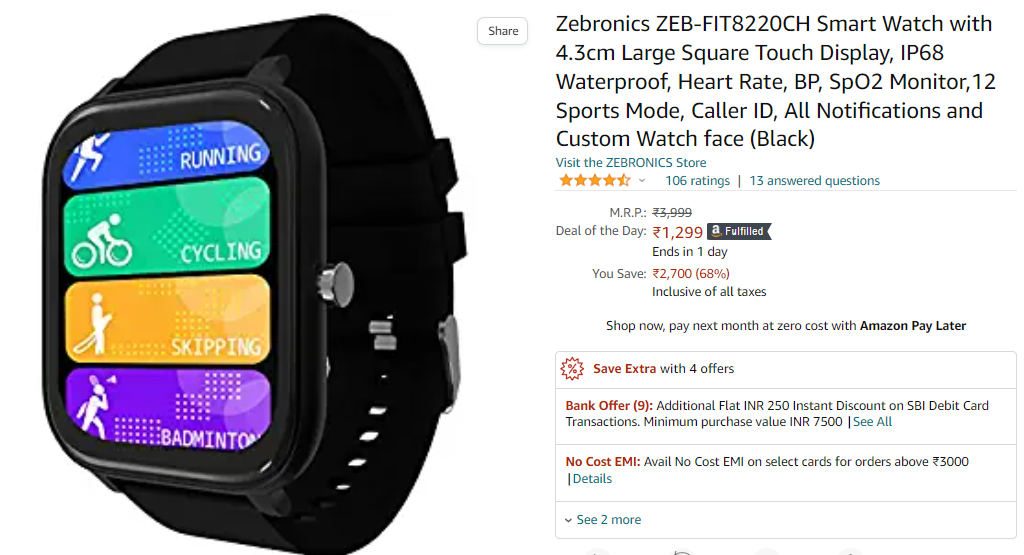 Product prices and availability are accurate as of the time it is posted here as indicated and are subject to change. Visit the related Website to See Latest Price.