Sale!
3×3 Stickerless Cube | Beginner Speedcube for Kids & Adults | Magic Speedy Stress Buster Brainstorming Puzzle
How to Buy the item :
1. Click on Link to Buy — BUY NOW.
2. Login / SignUp for your account.
3. Proceed to Cart
4. Enter your Shipping Address correctly, enter correct PIN Code.
5. Apply the Promotions / Coupons / Bank Offer.
6. Make the payment with any available methods.
7. Enjoy your shopping.
8. Your product will be delivered to your home within 7 working days.
Share this :
Description
About this item
HIGH-QUALITY MECHANISM: Drift Warrior 3×3 Cube is known for its smooth and precise turning. The cube is designed with a high-quality internal mechanism that allows for fast and accurate rotations.

ADJUSTABLE TENSION: Drift Warrior 3×3 allow for tension adjustments, allowing cubers to fine-tune the cube's tightness or looseness to their preference. This is important for achieving optimal performance.

STICKERLESS DESIGN: The Drift 3×3 cube features colored plastic pieces instead of traditional stickers, which makes it more durable and less likely to fade or peel over time

CHALLENGING GAMEPLAY: The Drift 3×3 cube is a challenging puzzle that requires strategy, logic, and spatial reasoning skills to solve. It is suitable for both beginners and advanced users.

PERFECT GIFT IDEA: No one falls out of love with the magic cube. Perfect Festive gift, Valentines, Friendship day, Holi, Diwali, Rakshabandhan (rakhi), Christmas Gift, Birthday Gift for kids, students, friends, college goers, adults, men, women, girls, boys, school students; Amaze everyone with your cubing skills; Keep it on office desk as a decorative item. This classic magic cube puzzle game will never go out of style, gift your loved ones today.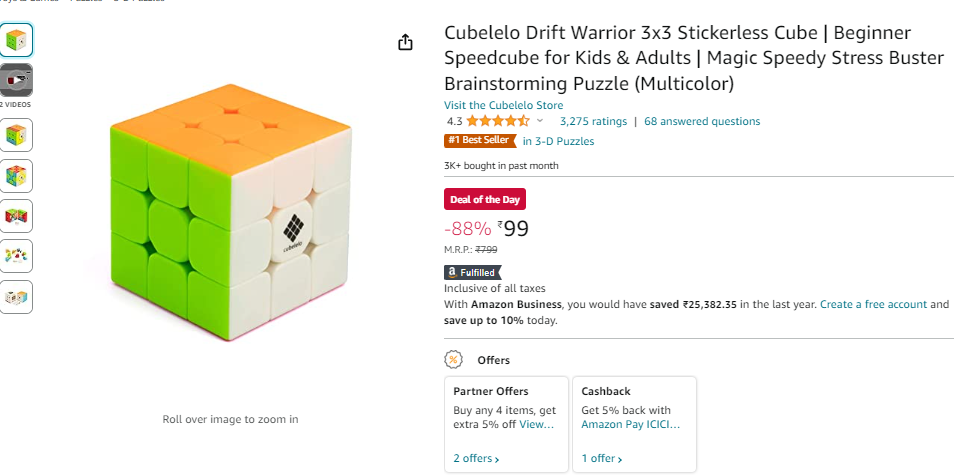 How to Play : Guide in Assamese 🎞 
Product prices and availability are accurate as of the time it is posted here as indicated and are subject to change. Visit the related Website to See Latest Price.