Bausch + Lomb Free Contact Lens Freebie
In this post we are going to post about the offer from site Bausch+Lomb which is providing you a pair of contact lens for FREE. This site is growing gradually and for its promotion it is providing you the freebie just to test the quality of the product of theirs. Contact Lens, Freebie, Sample Product, Eye Lens — Hello guys, how are you all ? Hope you are enjoying all the offers and deals posted in our Telegram Channel. We have recently posted about the latest sample offers.
Bausch + Lomb manufactured revolutionary rubber eyeglass frames as well as a variety of optical products that required a high degree of manufacturing precision. Bausch + Lomb introduced the first soft contact lenses and is still the largest global provider of eye care products.
Also read : RforRabbit : Pack of 3 Diapers For FREE | All Sizes | Free Shipping
How to get Free Contact Lens from Bausch+Lomb :
Firstly click on this link to visit the landing page — CLICK HERE.

This is an official offer from the company that it is providing you free Contact Lens.
Enter you year of birth and month and Continue.

On next step, Enter your mobile number and verify it via OTP
Enter your basic details like Name, Gender and City.
Select your Eye Powers of Left and Right Eyes.
On next step, Enter your delivery address correctly and submit your details.
On placing your order, you will get your confirmation message of the order.
You shall recieve the order within 15 days on your doorstep.

Product Received :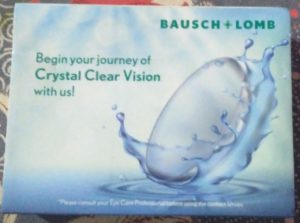 You May Also Like :