No longer need of FasTag System
Fastag — Under this new system, you should have to pay only for the kilometres that your vehicle runs. As for the current FasTag system, you are paying a high amount of tax for your vehicle that runs on the national highway. But under the new system, you you will be charged only for the distance that your vehicle runs. This system has been already been implemented in the developed countries like European and American countries, and this system will soon be seen in the country of India. Already the practice of the system is going on testing.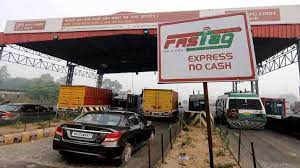 People in Delhi will soon avail this new system. The people are fed up of paying high taxes on highways. They are paying a large amount of money on travelling on the national highway and Expressway. So this system of Fastag will be abolished and a new system will be practiced. The government has already started to implement this new system. Under this, you have to pay the same toll for the number of kilometers your car will run.
In the developed countries like Germany and Russia, toll tax is being collected in this system. So with the rice of success of the system, it will also be going to be implemented in India
Installation of Satellite Navigation System in Vehicles
The current time the tall is charged on the basis of distance between two toll Gates. But imagine yourself you have started a journey from the middle and just reached the toll gate, suppose you are starting your journey from the toll gate and you have completed the journey in the middle, so you should be charged only for the distance that you have travelled, but you are paying the full tax. So in this new system, your vehicle will be operated through satellite navigation system, and it will read the kilometres that you have travelled. So accordingly, you will be charged only for the travelled kilometres on the highway.
Almost 98% of the vehicles in Germany has got their vehicles installed with the new modern Satelite Navigation systems. And they pay the tax only according to the distance their vehicles travel on the highway. The calculation starts only when the vehicle enters a tolled road. As soon as the vehicle move to the road that is not under toll tax, the amount gets automatically calculated with the distance they vehicle has travelled. The system is a bit similar to the Fastag deduction system. But presently in India, 98% of the vehicles are paying tax as per the Fastag system.
Prior to implementation of the new system in India, the policies of transport needs to be changed. Experts are on the project that 1.36 vehicles have been turned the necessary steps for the operation of the new tax deduction system. Sooner we will get the result of the project.
You May Also Like :